News & Awards
Member Appreciation Week October 13-16
Colorado Credit Union is a member-owned, not-for-profit financial cooperative. We couldn't be here if it weren't for you, our members. In October, we are showing our appreciation through free virtual events and giveaways. Join us to celebrate. 
---
Digital Wallets
Your mobile experience is getting even easier as Colorado Credit Union is now offering mobile payment and digital wallet services to our members. Digital Wallet applications are secure and easy ways to pay for purchases in stores, on the web and in apps. These purchases are secure. Your card number is not shared with the merchant and isn't stored on your mobile device. Instead, an encrypted number is used to process the payment.
The following payment options are now available to members:
Apple Pay • Google Pay • Samsung Pay • Fitbit Pay • Garmin Pay
---
Colorado Photography Contest
Thank you to everyone who participated in the contest. We received over 150 images. The CCU 2021 Calendar's will be featured on October 15, 2020.
Keep your camera's out and photograph our beautiful state all year long. Look out for next year's contest. 
---
Ken-Caryl Branch Move - July 13, 2020
We are excited to announce the new Ken-Caryl/Littleton branch will open on July 13. This branch is located at 10026 W. San Juan Way – near C-470 and Kipling. With the opening of this branch, we will be closing the current location at 8331 S. Continental Divide Rd. The ATM at this location will still be
operational until July 31.
As excited as we are to show you the new branch, please note that social distancing practices will be in place; and we continue to encourage members to use the drive-up lanes for transactions.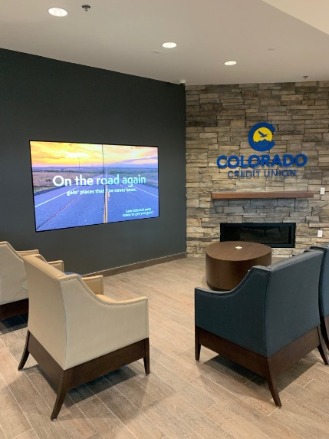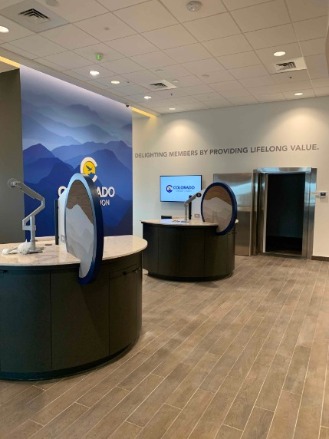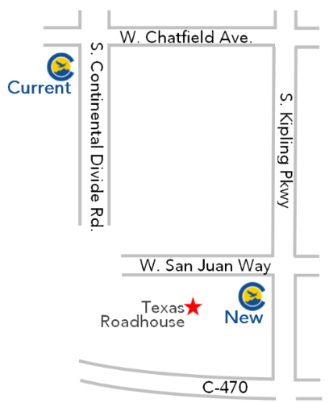 The Shred Day Event was a success. In addition to shredding important documents for our members and the surrounding communities, together we raised over $2,200 in cash donation and donated over 700 pounds of food to Food Bank of the Rockies. Well done, everyone! Colorado Credit Union and Food Bank of the Rockies gives many thanks to all the generous donations. 
---
 July 6, 2020 - Resume normal hours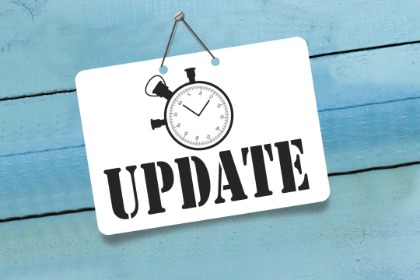 All branches will resume normal operating hours.
Ken-Caryl and Brighton Lobby:
Mon, Tue, Thur: 8 am - 5 pm
Wed: 9 am - 5 pm
Fri: 8 am - 6 pm
Sat: 9 am - 12 pm
Ken-Caryl and Brighton Drive-up Hours:
Mon, Tue, Thur, Fri: 7:30 am - 6 pm
Wed: 9 am - 6 pm
Sat: 9 am - 12 pm
Downtown Lobby:
Mon, Tue, Thur, Fri: 7:30 am - 4:30 pm
Wed: 9 am - 4:30 pm
---
May 7, 2020 - Branch Lobbies to Re-Open May 11 with Increased Security Precautions
A Message from our President/CEO Mike Williams
On Monday, May 11, we will re-open our branch lobbies to members. Even though lobbies are opening, we continue to encourage members to use the drive-ups for transactions. As part of our re-opening, we are implementing temporary safety precautions which are outlined below. We want to call special attention to one specific precaution.
The health and well-being of our members and staff is our top priority. For this reason, all CCU employees and members will be required to wear a mask or face covering when inside our branch lobbies. This requirement does not apply to children under the age of 2. Complimentary masks will be available for any member who needs one.
We understand that some members may find this inconvenient, but we believe that following the CDC guidelines is an added safety measure worth the inconvenience. Any member who is uncomfortable or unable to wear a mask, should use the drive-up, ATM or digital banking. As a reminder, you can withdraw cash from any CCU ATM. You can also deposit cash and checks at our Brighton, Downtown and San Juan Way ATMs. You can complete transfers to and from CCU accounts, make loan payments, complete mobile check deposits and access your accounts through digital banking (online and ColoradoCU mobile app).
COVID-19 Safety Precautions – Effective May 11, 2020
All Branches:
Masks or face coverings are required for all members entering the lobby. If a member does not have a mask, CCU will provide a complimentary mask.
All CCU staff will be required to wear masks.
Members and Shared Branch customers may be asked to temporarily remove or lift their mask/face covering for identification purposes.
Plexiglass shields have been installed at each member service station.
Appropriate social distancing floor markers have been installed to ensure everyone remains 6' apart.
Only the member completing the transaction will be allowed inside the branch. We ask that others please refrain from waiting inside the branch.
Additional cleaning precautions will be taken daily.
Hand-sanitizing stations will be available as you enter the lobby.
All members are encouraged to make appointments for new loan or new membership applications.
We will update our website with additional changes as they become necessary. Please visit www.ccu.org for the latest updates, branch locations, and additional COVID-19 measures.
Brighton and Ken-Caryl Branches: 
Only seven (7) members will be allowed in a branch at any time.
Restrooms will be closed to the public.
All drive-up lanes will be open and members are encouraged to continue using drive-ups for transactions.
Drive-up and lobby hours are 9am - 5pm Monday through Friday, and 9am – noon on Saturday.
Downtown Branch:
Only three (3) members will be allowed in this branch at any time.
Lobby hours are 8:30am – 4:30pm Monday, Tuesday, Thursday and Friday; and 9am - 4:30pm on Wednesday.
Colorado Credit Union is dedicated to supporting you as we continue to navigate through the coronavirus pandemic.
Please take care of yourself and your family, and thank you in advance for helping us take care of our CCU family.

Sincerely,
Mike Williams
President/CEO
---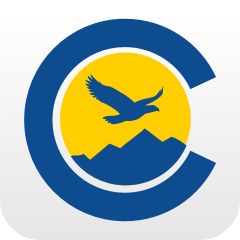 New and Improved Digital Banking Platform Available:
In order to provide our members with the most updated and easiest digital banking experience, our
Digital Banking Platform
 was upgraded in April. Download the new "ColoradoCU" app today. (Data carrier rates may apply.)


---
---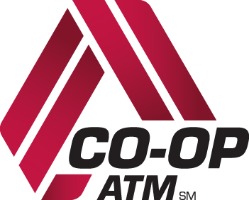 New ATM Network:
CCU has switched its ATM network. This change aligns our ATM network with our existing CO-OP Shared Branch network and means our members will now have access to nearly 30,000 surcharge-free ATM* locations and more than 5,900 convenient branch and self-service locations covering all 50 states. Look for the CO-OP ATM logo to identify surcharge-free ATMs.
Easily locate surcharge-free ATMs
. 
ATM Location: As of February 28, 2020 the Englewood ATM location will no longer be in service.
Locate the closest ATM.
Englewood Branch Closed May 31st:
The Englewood branch location has permanently closed on May 31, 2019. In 2013, with great excitement, the Englewood Municipal Employees Federal Credit Union was merged into Colorado Credit Union. During the merger discussions, we made a commitment to continue branch operations for three years inside the Civic Center building. We exceeded our commitment and operated for more than five years at this location. Unfortunately, the economics for operating this branch haven't come to fruition and the difficult decision has been made to close the Englewood branch. Current members that utilized the Englewood branch can continue to bank with Colorado Credit Union.  CCU has all the current technologies needed for branch-free banking and in-person banking is still available at other CCU branches and at 5,900+
Co-Op Shared Branch locations
.
---
Recent Awards:
Named one of the "Best Credit Unions to Work For" by Credit Union Journal for the sixth consecutive year. (2015-2020)
The Community Impact Award runner up from Mountain West Credit Union Association (2019)
Received the Dora Maxwell Award for Social Responsibility & Community Service (2019)
CCU Employee received the Outstanding Young Professional Award from Mountain West Credit Union Association (2019)

Received 5-Star rating from Bauer Financial; recognized as one of the strongest financial institutions in the country (2017-2020)
CEO Mike Williams received Distinguished Leader award from Mountain West Credit Union Association (2017)
Two staff received Top 20 Young Professionals Under 40 award from Mountain West Credit Union Association (2017)