News & Awards
Upcoming Events & Announcements:
LOBBY AND BRANCH CLOSURES
As we all navigate through the Coronavirus (COVID-19) pandemic, we want to assure you that Colorado Credit Union cares about the health and safety of our members and our staff. For this reason, we are restricting access to our branch lobbies until further notice. 

Branch Access Changes:

Effective Thursday, March 19, the following changes will be enacted: 

Ken-Caryl and Brighton branch lobbies will be open for loan appointments only. These lobbies will be closed to all teller transactions until further notice. Please use the drive-up lanes or ATM for all transactions other than loan appointments. 

The Downtown branch lobby will be closed until further notice. Deposit and withdrawal transactions can be made using the ATM.

The Ken-Caryl branch move to 10026 W. San Juan Way has been postponed.
Reminder: Lobbies are closed.
Monday, Tuesday, Thursday, Friday 7:30 am - 6 pm

Wednesday 9 am - 6 pm  

Saturday 9 am-12 pm
---
NEW AND IMPROVED DIGITAL BANKING PLATFORM IS NOW AVAILABLE 
In order to provide our members with the most updated and easiest digital banking experience, our Digital Banking platform was upgraded on April 6.  
Click here for more information on the new banking platform. 
---
KEN-CARYL BRANCH IS MOVING TO A NEW LOCATION
Our new Ken-Caryl branch is beautiful, and we can't wait to show it to you. However, due to concerns related to the Coronavirus outbreak, we decided to push back the grand opening until we can fully showcase all of its great features. A grand opening date is still being determined. In the meantime, we want to offer you a sneak peek.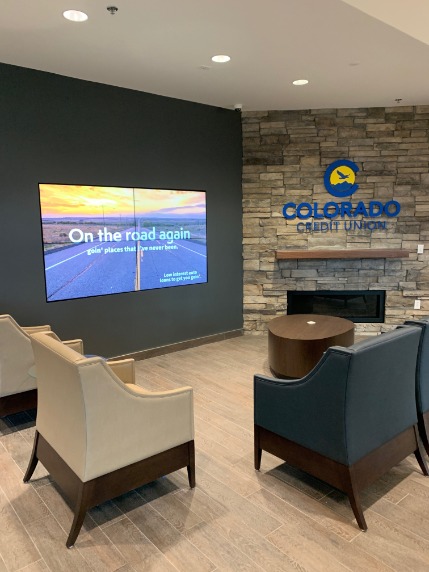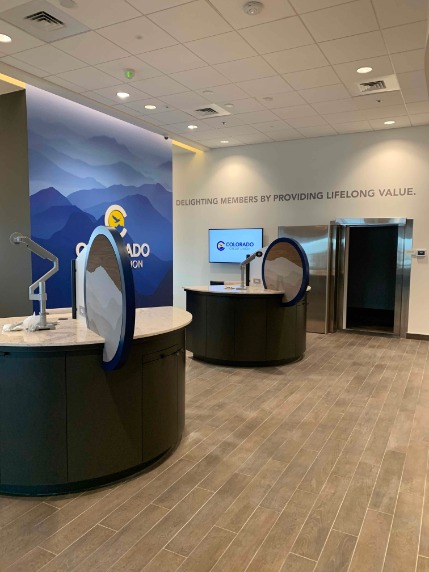 Colorado Credit Union is thriving and is continuing to experience exceptional growth. With that growth, we continue to add staff positions to better serve our increasing membership. With all of this success, we have outgrown our current location. The plan is to move the Ken-Caryl branch to the new building on San Juan Way. Our corporate offices will remain at the Continental Divide location. Colorado Credit Union is excited to relocate the Ken-Caryl branch so that we can continue to provide our members with the best experience possible.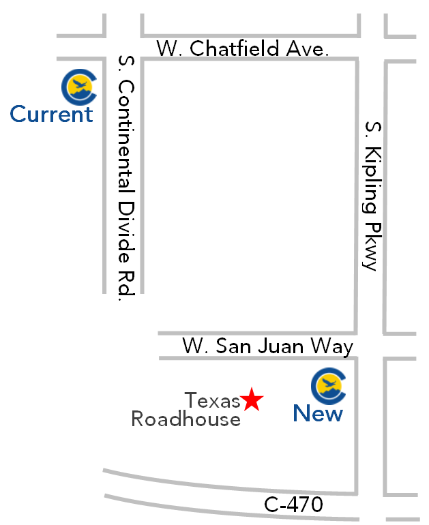 ---
ANNUAL MEETING HAS BEEN RESCHEDULED TO MAY 19
THE 46th ANNUAL MEETING of Colorado Credit Union shall be held on Tuesday May 19, 2020 at 9:00 a.m. at our new Ken-Caryl branch located at 10026 W. San Juan Way. All members are welcome to attend. As we get closer to the date, we will let members know if we need to move the meeting to a virtual meeting.
There are three Director Positions open on the Board of Directors for three-year terms. The Recruitment Committee for Colorado Credit Union has nominated three individuals for the board positions.  
To read about the nominees, access the ballot and any additional information:  
Click Here
---
CCU has switched its ATM network. This change aligns our ATM network with our existing CO-OP Shared Branch network and means our members will now have access to nearly 30,000 surcharge-free ATM* locations and more than 5,900 convenient branch and self-service locations covering all 50 states. Look for the CO-OP ATM logo to identify surcharge-free ATMs. 
---
ENGLEWOOD ATM LOCATION
As of February 28, 2020 the Englewood ATM location will no longer be in service. To locate the closest ATM:  Click Here
ENGLEWOOD BRANCH CLOSED MAY 31



The Colorado Credit Union Englewood branch has permanently closed on May 31, 2019.
In 2013, with great excitement, the Englewood Municipal Employees Federal Credit Union was merged into Colorado Credit Union. During the merger discussions, we made a commitment to continue branch operations for three years inside the Civic Center building. We exceeded our commitment and operated for more than five years at this location. Unfortunately, the economics for operating this branch haven't come to fruition and the difficult decision has been made to close the Englewood branch.
Current members that utilized the Englewood branch can continue to bank with Colorado Credit Union. Your credit union has all the current technologies needed for branch-free banking and in-person banking is still available at other CCU branches and at 5,900+ Co-Op Shared Branch locations. 
---
Newsletters & Annual Reports
Recent Awards:

                  
The Community Impact Award runner up from Mountain West Credit Union Association (2019)

Received the Dora Maxwell Award for Social Responsibility & Community Service (2019)

CCU Employee received the Outstanding Young Professional Award from Mountain West Credit Union Association (2019)

Voted one of the Best Credit Unions to Work For by Credit Union Journal 5 years in a row (2015-2019)

Received 5-Star rating from Bauer Financial; recognized as one of the strongest financial institutions in the country (2017-2020)


CEO Mike Williams received Distinguished Leader award from Mountain West Credit Union Association (2017)

Two staff received Top 20 Young Professionals Under 40 award from Mountain West Credit Union Association (2017)