Our Story
In 2023, Colorado Credit Union celebrated our 50th anniversary. We wouldn't be where we are today without your support. Below is our 50th Anniversary video which celebrates both our history and our future. Our entire team at Colorado Credit Union thanks you for your membership and we look forward to serving you for many years to come.
---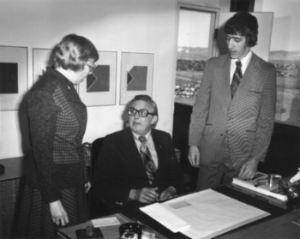 Our story began in 1973 when 35 Johns Manville employees gathered their funds together and started our credit union as a member-owned financial cooperative. We grew rapidly over the years, serving only employees, retirees, and family members of Johns Manville.
In 1998, we expanded our membership to include other employer groups and local communities, enabling us to continue our growth and help more people with their finances. In 2005, we changed our name from Johns Manville Credit Union to Colorado Credit Union, to better reflect our growing membership. In 2009, we expanded into the Brighton community as Brighton Federal Credit Union was merged into CCU. A few years later in 2014, Englewood Municipal Employees Federal Credit Union was merged into CCU, which allowed us to better serve the Englewood community. Today, we proudly serve more than 20,000 members across several employer groups and communities in Colorado.
In October 2019, we proudly announced our new logo, colors, and tagline! We are thriving and experiencing exceptional growth and want to better represent CCU while maintaining our dedication and superior service to all members! Our new logo represents Colorado's natural beauty and symbolizes guidance, exploration, and stewardship. The 'C' outline represents our strong bond with our state. The mountain represents strength and stability while outlining the Maroon Bells. The soaring eagle is a symbol of freedom and courage. Warmth, optimism, and growth are symbolized by the yellow sun. The 'JM blue' color represents our heritage and connection, as we were originally chartered to serve the employees of the Johns Manville corporation. Our new tagline —'Love Where You Live, Love Where You Bank' — describes how our members feel about Colorado and CCU.
Many things have changed since 1973, but our dedication to you and your financial well-being has remained our top priority. We remain committed to providing exceptional products and providing superior service to our members.
Our Mission:
Delighting members by providing lifelong value. 
Our Members' Thoughts:
"As a long-standing member of Colorado Credit Union, I can honestly say I have never had a bad experience! Their staff is extremely professional, knowledgeable, and efficient; always providing excellent customer service. During my most recent refinancing experience, the loan officer helped me secure the best rate and made it an extremely convenient and seamless process! I will continue to trust CCU with all my financial needs." - DeAnna, Member since 2009
"They approved my HELOC in just 5 business days which is amazing! Great communication too." - Lonnie, Member since 2014
"Absolutely the best experience! All aspects of the process were timely and everything went smoothly! Highly recommend!" - Jen, Member since 2022
"It was a very positive experience and was fast and simple. Thank you, thank you." - Joan, Member since 2013
"Love this bank. Everyone that works here is kind and I never have any problems." - Drea, Member since 2021
"Every time I step foot in this place the people are incredibly polite and helpful. One of the easiest places to do business!" - Stephen, Member since 2022
"Very welcoming staff. Met all my requests for that visit. They were very helpful. Could not have asked for a better visit." -  Dennis, Member since 2023
"Colorado Credit Union has been great! We worked with Lorrie Schultz and the mortgage team to purchase a home and had a fantastic experience, Lorrie was extremely responsive and knowledgeable, and CCU rates and fees were far below anybody else, highly recommend!" -  Samuel, Member since 2015
"Colorado Credit Union is an amazing bank! We were helped by Xochitl. She is awesome! She helped us refinance our auto loan and got us a better rate. If I could give it more than 5 stars I would. Everyone is very friendly and helpful. It truly is an amazing bank." Alejandro, Member since 2018
"I was in the Lincoln branch and had the most amazing young lady, Lele Pope, help me solve all of my account issues. Lele Pope was very pleasant and took the time to explain a CD promo that was being offered. She informed me so well that I actually left the branch with my first CD. High-five to this special young lady." Thelma, Member since 1988
"Quick customer service and very experienced. Can't wait to bank here!" - Claritza, Member since 2023
"Great service! If you're looking at a new bank this is the one you're definitely looking for! They make everything so easy for you. I definitely recommend this bank." - Ernesto, Member since 2017