Our Story
About Us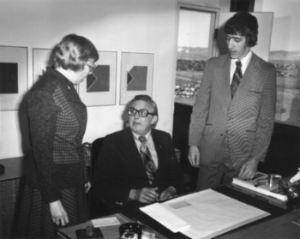 Our story began in 1973 when 35 Johns Manville employees gathered their funds together and started our credit union as a member-owned financial cooperative. We grew rapidly over the years, serving only employees, retirees, and family members of Johns Manville.
In 1998, we expanded our membership to include other employer groups and local communities, enabling us to continue our growth and help more people with their finances. In 2005, we changed our name from Johns Manville Credit Union to Colorado Credit Union, to better reflect our growing membership. In 2009, we expanded into the Brighton community as Brighton Federal Credit Union was merged into CCU. A few years later in 2014, Englewood Municipal Employees Federal Credit Union was merged into CCU, which allowed us to better serve the Englewood community. Today, we proudly serve more than 18,000 members across several employer groups and communities in Colorado.
Many things have changed since 1973, but our dedication to you and your financial well-being has remained our top priority. We remain committed to providing exceptional products and providing superior service to our members.
Our Mission
To provide lifelong value for members

Our Members' Thoughts
"CCU has been there for us almost 20 years! So pleased with the services offered." - Portia
"The employees here are so amazing and friendly. I love coming in and they know my name. They are all so helpful." - Nicole
"So impressed with the friendly and helpful customer service! Helped me with a credit line and refinancing my vehicle, thank you all." - Benny

"The process was painless. I will certainly recommend Colorado Credit Union to anyone!" - Gerry
"We refinanced a loan through CCU and had an amazing experience! Customer service was amazing and the turn around time through application, appraisal and closing was faster than any bank I have ever seen! I would highly recommend them to anyone!" - Paula
"My husband and I just wanted to express our gratitude for the excellent service we received during our recent 2nd mortgage refi. The efficiency and timely communication made it the easiest, most painless refi we've ever done. People are, often times, quick to complain about poor customer service, so we wanted to be sure to compliment the excellent service we received. Thank you!" - Sharon
"Colorado Credit Union impressed me every step of the way. I feel lucky to have chosen to do business with CCU." - Casey
"What you did for our family is something we will never forget. It was priceless and no words can describe our gratitude!" - Hassina
"Our son just purchased his first home and, upon our recommendation, used CCU for his financing. We have completed 6 transactions with CCU within the family and have been thrilled with the service and competitive rates each time. This last transaction was no exception and everything went off without a hitch...never a surprise in the process!" - Mary
"The customer service here is excellent! They have great banking options yet still maintain a personal touch." - Scott