Phone Scams
Publish date: 7/16/2021
Phone calls or "vishing" are another hacker trick that involves fooling the call recipient into believing the caller is legitimate. Hackers can use Voice over Internet Protocol (VoIP) to mimic their authenticity and request sensitive data. There has been a recent increase in phone scams with callers impersonating financial institutions and attempting to collect personal data.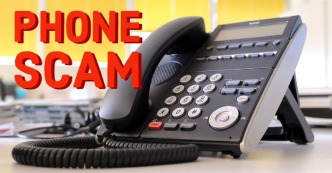 Common Phone Scam Techniques:
The fraudster may contact you from what appears to be a financial institution phone number identifying themselves as an employee of that financial institution.
The fraudster caller may claim they need to verify debit and/or credit card transactions for your safety.
The fraudster may ask you to verify information such as account number, date of birth, last four of your Social Security number, and/or the CVV number (3-digit number) on the back of your debit or credit card.
Some other ploys may be appearing to be from the IRS or other authorities and are designed to steal sensitive data with a phone call. 
Suggestions to help protect yourself from phone scams:
Never provide personal information to anyone calling and asking for it.
Change your passwords regularly, use a difficult phrase, numbers and special characters and do not repeat passwords.
Do not share your username or password with anyone.
If you have concerns or doubts about a call, you should hang up and call the number on the back of your card to verify the call is legitimate.
For more security news and tips, visit https://www.ccu.org/resources/securitytips
For more Fraud Resources, visit https://www.ccu.org/resources/fraud