Frequently Asked Questions
Is Colorado Credit Union still open?

As we all navigate through the Coronavirus (COVID-19) pandemic, we want to assure you that Colorado Credit Union cares about the health and safety of our members and our staff. For this reason, we are restricting access to our branch lobbies until further notice. 
Lobby and Branch Closures:
Branch Access Changes:
Effective Thursday March 19, the following changes will be enacted:
Ken-Caryl and Brighton branch lobbies will be open for loan appointment only. These lobbies will remain closed to all teller transactions until further notice. Please us the drive-up lanes or ATM for all transactions other than loan appointments. 
The Downtown branch lobby will remain closed until further notice. Deposit and withdrawal transactions can be made using the ATM. 
The Ken-Caryl new branch move to San Juan Way has been postponed. 
 

Reminder: Lobbies are closed.

Drive -up lane hours:

Monday, Tuesday, Thursday, Friday 7:30 am - 6 pm

Wednesday 9 am - 6 pm

Saturday 9 am - 12 pm

When is the Ken-Caryl branch moving?

Our new Ken-Caryl branch is beautiful, and we can't wait to show it to you. However, due to concerns related to the Coronavirus outbreak, we decided to push back the grand opening until we can fully showcase all of its great features. A grand opening date is still being determined. In the meantime, we want to offer you a sneak peek. 
COMING SOON, visit us at our new Ken-Caryl branch at 10026 W. San Juan Way.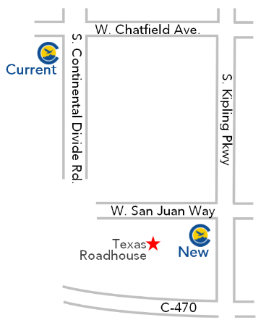 New Digital Banking Platform Now Available
Will I have to download the new mobile banking app*?
Yes, our existing mobile app will no longer work. When opening the existing app, you will be directed to download our new one through the Google Play Store or Apple Store, depending on your device. The app can also be found by searching "Colorado CU" in your app store.
Our new "ColoradoCU" mobile app will appear in the app store as: 
Will I have to create a new username and password to access online/mobile banking? 
No. If you already use our online and mobile banking, you can login with your current username and password. You will only have to enroll in Two-Factor Authentication. 
What is Two-Factor Authentication? 
Two-Factor Authentication is a secure method of confirming a user's identity by using a combination of two different factors. You will experience this your first time logging onto Colorado Credit Union's new online/mobile solution via any new device.
Once entering in your login credentials, you will be prompted to receive an authentication code through phone call, text message or by downloading the "Authy" app. You will authenticate your identity by entering in this code. Once authorized, you can select to register the device so you will not be promoted for Two-Factor Authentication again.
Will I have to enter a Two-Factor Authentication verification code with every login?
For your mobile device, you will not be prompted to complete Two-Factor Authentication again. Upon your first mobile login, you will be asked to create a 4-digit pass-code, which you can login with going forward. You will also be given the option to enable fingerprint or Face-ID verification as your preferred login method.
For online banking, Two-Factor Authentication can be registered by device. If you select for the device to be remembered you will not have to complete this process again. However, upon using a different device to login to mobile/online, you will be prompted to go through the Two-Factor Authentication process again.  
How can I complete Two Factor Authentication if I do not have a mobile device that can receive the code via text message?  
This Two-Factor Authentication code can be accessed in multiple ways. If you cannot receive text messages, we recommend that you request your code via a phone call. This can be done by selecting "Try another way" > select "Phone call" > select "Next". You will then receive a phone call which will repeat your code three times.
What features will this new platform have that I currently do not have?
In addition to features members are familiar with such as Remote Deposit Capture, Bill Pay, transfers between shares, loans, accounts and institutions, etc., members will now also benefit from the following additional features: 
Fully integrated Online and Mobile- enjoy the universal capabilities, look, and feel between both platforms

Two Factor Authentication- the most secure

Customizable views

Easily switch between multiple account profiles in the Mobile app

Members can update their profile/contact and security information themselves, as well as reset a forgotten password themselves

Members can manage their credit and debit cards themselves- activation with the click of a button, can turn cards on and off instantly, report lost or stolen, and order a new card

Easily apply for additional shares and loans

Conversations- The ability to interact with support staff through a straight forward, convenient, and robust direct messaging system

Connecting to other institutions- Link an account from another institution to see the transactions and account balances, side by side, with your CCU account information

Ability to perform transfers to/from external accounts via the mobile app
Will I have to set up my existing transfers to external financial institutions again? 
No. Any external accounts/transactions that were set up previously will remain the same.
Will I need to set up internal transfers again? 
No. All current internal transfers will remain the same. 
Will I need to re-enroll in Remote Deposit Capture (RDC)?
No. All your existing RDC settings will remain the same.
Will I have to re-enroll into Bill Pay? 
No. All your current Bill Pay settings and enrolled payees will remain the same.
Bill Pay enrollment is currently only available in Online banking. Members that have never enrolled in Bill Pay will only be able to do so through Online banking and will NOT be able to enroll for the first time through the Mobile app at this time. In order to access Bill Pay on the Mobile app, the member must first enroll via Online banking. 
How do I logout of the app? 
 You will be automatically logged out each time you leave the app. Upon opening the app, you will be required to enter your four digit pass-code or use already setup bio-metrics (Face-ID or Fingerprint) which will log you back in.  
What does it mean to "Remove profile"?
Rest assured that selected "Remove profile" will not permanently remove your information! It will delete your profile from that specific mobile device. However, you can always re-add that profile by reentering your username and password, authenticate your account by completing two factor authentication, and creating a new pass-code.
*Data carrier rates may apply.